About Kailashganga Pipes
We, Sri Kakatiya Industries (India) Private Limited (Kailashganga) a Joint Venture Company of Vaishnaoi Group of Companies and JC Brothers' Group of Companies. Vaishnaoi Group of Companies extremely well diversified in businesses of Infrastructure Development, Realty, Hospitality & Automobiles and J C Brothers' Group of companies having businesses of Retail trading of Textiles, Readymade Garments & Jewelry and Combined Turnover of both groups is more than Rs. 1,500 Crores.
Our manufacturing capacity is 15,000 Metric tonnes per annum and facility is located at Kothur, Rangareddy District. The company's portfolio consists of technically driven innovative products catering to various segments like Agriculture, Industrial, Infrastructure/construction related products, Water Supply, Sewerageand Telecom.
Sri Kakatiya Industries (India) Private Limited (Kailashganga Pipes) is promoted by qualified professionals who believe in workinghardforthecompany, itscustomers, its suppliers and its employees.
We started with HDPE pipe manufacturing and gradually improved our production efficiency and now we manufacture various products like Gas pipe, MDPE Pipe, DWC (Double Wall Corrugated) Pipe, PLB Duct Pipe, Sprinklers, Sewarage Pipe, Power Duct Pipe and PE Fabricated Fittings.
We undertake turnkey projects related to Irrigation, Water supply, Gas, Sanitation, Telecom and Electrical. We provide our services from design to commissioning of the project. Recently, we have executed under Mission Bhagiratha and Irrigation department of Telangana Government.
Under Mission Bhagiratha we have laid around 2000 Kms of pipeline and close to 900 Habitations water has been distributed.
Our Vision
To be recognized as leading brand in Indian pipe industry through our performance, our people and commitment to our core values.
Our Mission
Highest standards of quality product at reasonable cost, Developing, encouraging and rewarding superior performance of our employees, Strengthening mutual beneficial relationships with our Clients with long-term focus.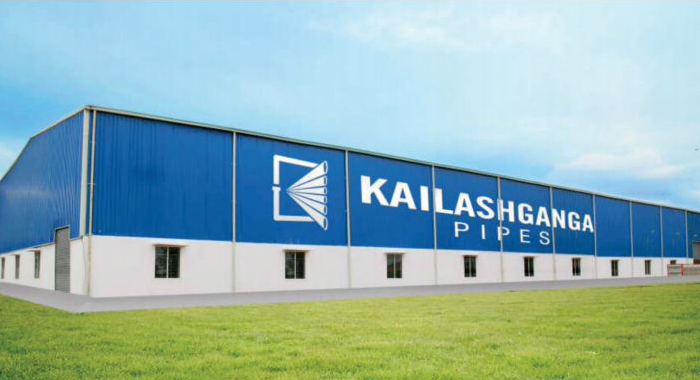 Quality Assurance
Quality is an integral part of Kailashganga Corporate Business Principles. These principles guide our actions to deliver products and services that are safe, compliant and preferred. They are essential for the achievement of our ambition to be recognized and trusted to offer products and services that enhance the quality of life. At Kailashganga, our commitment is to never compromise on the safety, compliance and quality of our products and services.
At Kailashganga our Quality Policy summarizes the essential elements of our commitment for excellence and includes:-
Fostering a quality mind-set with the objective of developing, manufacturing and providing products and services with zero defects that are trusted and preferred.

Complying with relevant laws and regulations as well as internal requirements.

Continuously challenging ourselves to improve the quality management system to guarantee product safety, prevent quality incidents and eliminate defects through the review of quality objectives and results.

Encouraging participation and promotion of quality responsibilities amongst all employees and third parties through standards, education, training and coaching, supervision and effective communication.
Quality, it is about delivering what we promise in everything we do. Each and every one of us has the power to influence Quality and trust through our leadership, dedication and passion.